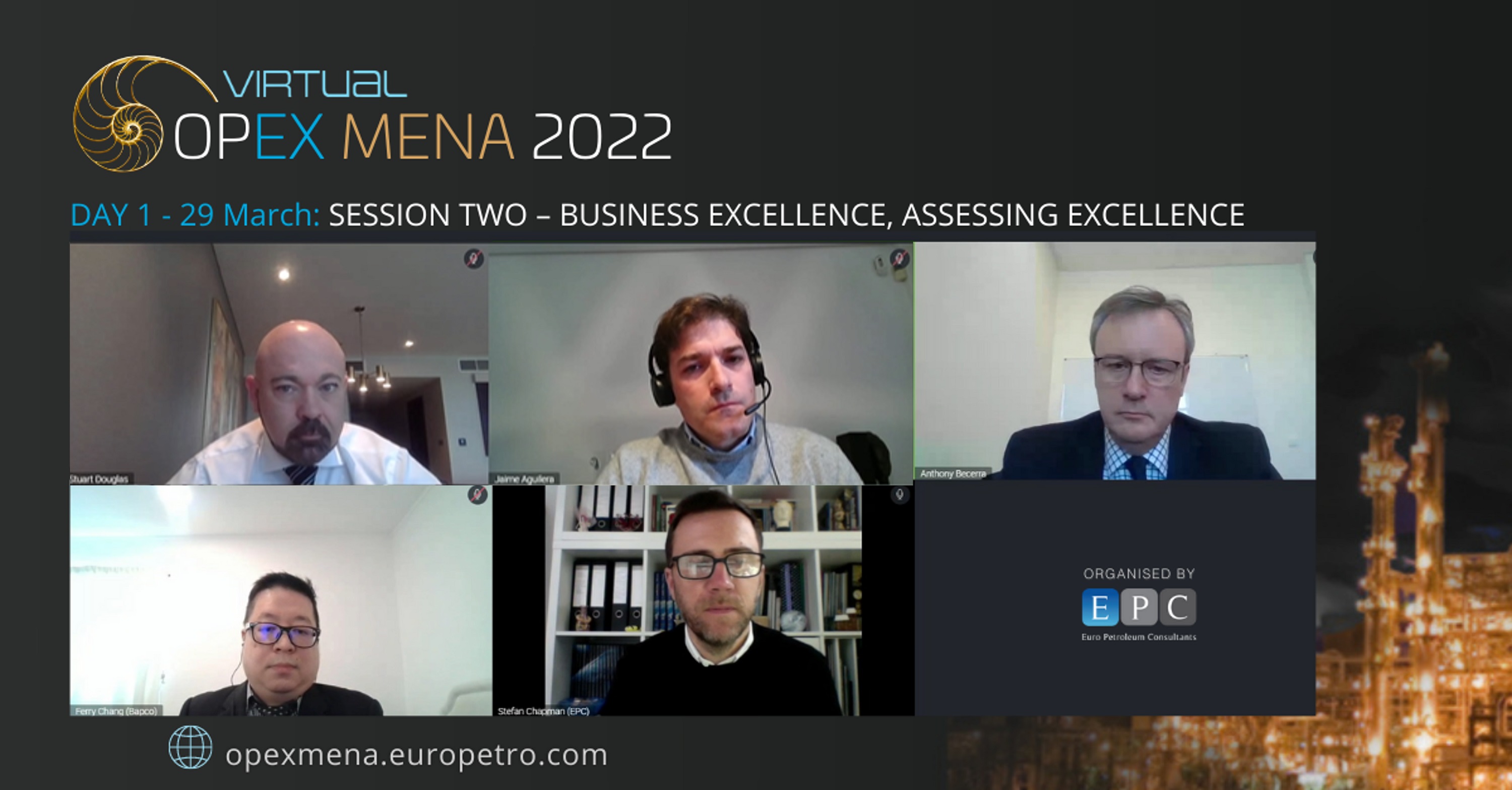 We recently joined the OPEX MENA virtual conference to discuss key trends in the oil and gas industries, exploring the opportunities and challenges when striving for excellence in safety & operations. Voovio's Vice President in the Middle East Region (Stuart Douglas) took some time to share his key takeaways from the event:
Key Takeaways and Event Report
OPEX MENA 2022 was an engaging and interactive event helping organizations in the MENA region to share best practice and advanced methodologies to improve performance. Over 80% of attendees were key specialists and executives from oil and gas end-user companies , discussing ways to complete their digital transformation of operations in order to adapt to the new conditions. Some of the major oil & gas NOC's in the region attended the event, including ADNOC, ARAMCO, BAPCO, QP, KOC, PDO, DP World, bringing together experts in Operations, Maintenance and Health & Safety.

During the event the Voovio team was involved in a number of sessions during which we asked questions on the topic of 'The Knowledge Gap' and the mass amount of subject matter experts retiring and taking this tribal knowledge with them. We received some interesting responses, one of which was from BAPCO's Ahmed Khalil (Operational Excellence & HSE Manager), who replied saying that BAPCO has a mandate from their CEO for this very reason and that all departments within BAPCO are tasked to make sure that this tribal knowledge is captured and passed down to the new generation.

What the past 2 years have shown the industry is that during trying times when the human aspect of an operation is compromised, there is a greater need to make sure that all employees have the access to subject matter data and have the ability to access this knowledge data at the push of a button rather than relying on the subject matter expert being available at all times. It is this knowledge capture and transfer need that has been highlighted more than ever before during recent times and it is situations like this which push companies like BAPCO to deploy a corporate mandate on the need to capture and transfer this subject matter knowledge through the use of technologies, training and one to one field based initiatives.
4 things we learned at OPEX MENA 2022
1: Covid underlined the need for new technologies
Digital Transformation accelerated across Middle East Oil & Gas companies during the pandemic, which has created greater awareness on the need for technologies and data to deliver on operational excellence strategies. In many areas of the industry, some technologies were a nice-to-have – but now they are business critical in order to deal with unpredictable circumstances.
2: Knowledge capture more important due to retirements
The need to capture knowledge and expertise and distribute it, is greater than ever due to the rapidly growing number of retirements.  Furthermore, the pandemic triggered situations where often SMEs were not available at critical times (due to the need to isolate) , which at times had a severe impact on operations at critical times for plant leaders.
3: Increased efforts to align technologies with OPEX strategies
Another recurring theme was the greater push in the region to align technologies with operational excellence strategies. Operations leaders are looking for ways to get more real-time data and higher quality data in order to reduce downtime and find new efficiencies.
4: More on Human Knowledge – less on the Asset
We definitely heard the "Person" being talked about more at this OPEX Event than ever before, where usually the "Asset" takes center stage. The past few years has led to organizations valuing the human element of the operation and their knowledge more than ever before. The great volume of isolations required due to illness have consistently caused a significant impact on operations and in some cases the experts were not available to perform  their duties and impart their knowledge. This clarifies how crucial it is to start capturing more knowledge digitally in order to decrease the dependency on SMEs to train and onboard new staff.
To see the Voovio session, you can watch the video below:
To access the OPEX MENA Event 'Takeaway Report' click here.