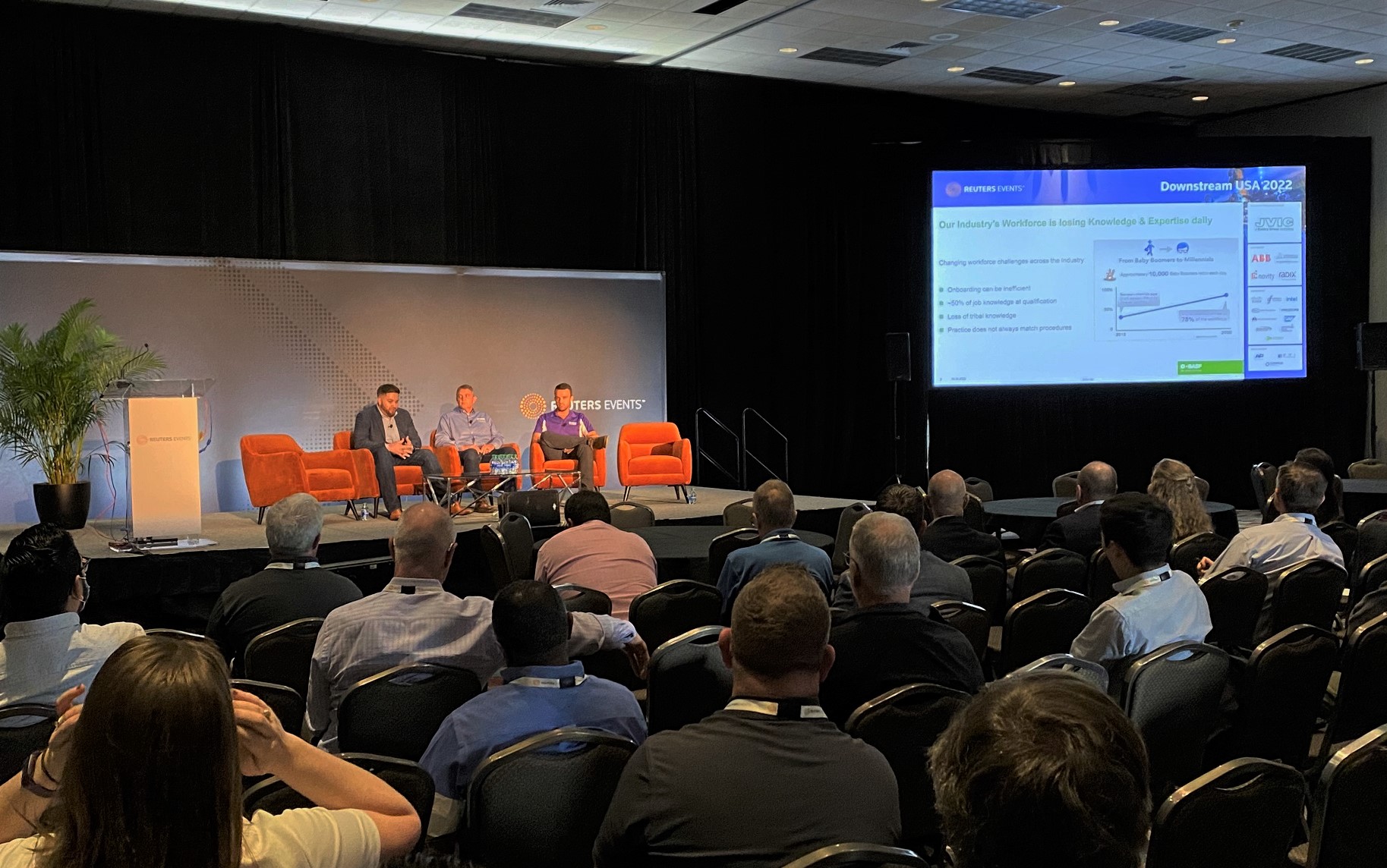 This June we joined an important industry event back in person: The Downstream conference in Houston, focused on the key topics around downstream optimization. Organized by Reuters, the event brought 1000 conference attendees and 5000 overall including the exhibit areas from the petrochemical, refining, chemical and LNG industry under one roof. The conference had many relevant sessions across a good spectrum of plant activities: Reliability & Maintenance; Shutdowns and Turnarounds, Engineering & Construction and the Future of Downstream.
Voovio's Contributions
Voovio joined the event as a silver sponsor and facilitated a session with one of our customers, BASF, on how they have partnered with Enhanced Reality technology to solve some of their operations and maintenance challenges. We keep hearing how the industry is continuing to face big challenges in finding, onboarding and retaining people with the right levels of experience and knowledge, and everyone is struggling with capturing key knowledge from SMEs before they leave.
Larry Tidwell (Operational Improvement Coordinator) and Joseph Pendleton (Senior Production Manager, former Maintenance Engineer) delivered a very well received and well-attended session. Based on headcount, it was one of the most well-attended sessions of the conference.
Three key takeaways from the presentation on the impact BASF has seen in deploying Enhanced Reality technology:
Learning by doing, on-demand is the key. This accelerates and enhances learning and has been a game-changer.


.

Virtual SME: this is the way our learning is developing. Being able to refresh, on-demand, on a procedure before executing that procedure in the field is huge.


.

Enhanced Reality captures (SME) knowledge in a way that has never been available before: capture and transfer expertise that will make others be successful in the future
We also had our customer, Linde, represented by Andy Esposito (Plant Manager) and Phil Smith (Production Manager) from the Port Arthur site attend, who have also just completed an implementation of our platform for their site.
When and where did the event take place?
Thursday, June 9th 2022 at NRG Center, Houston, TX
Images from the Downstream Conference:
We look forward to participating again next year, and look forward to seeing more of our customers on stage!