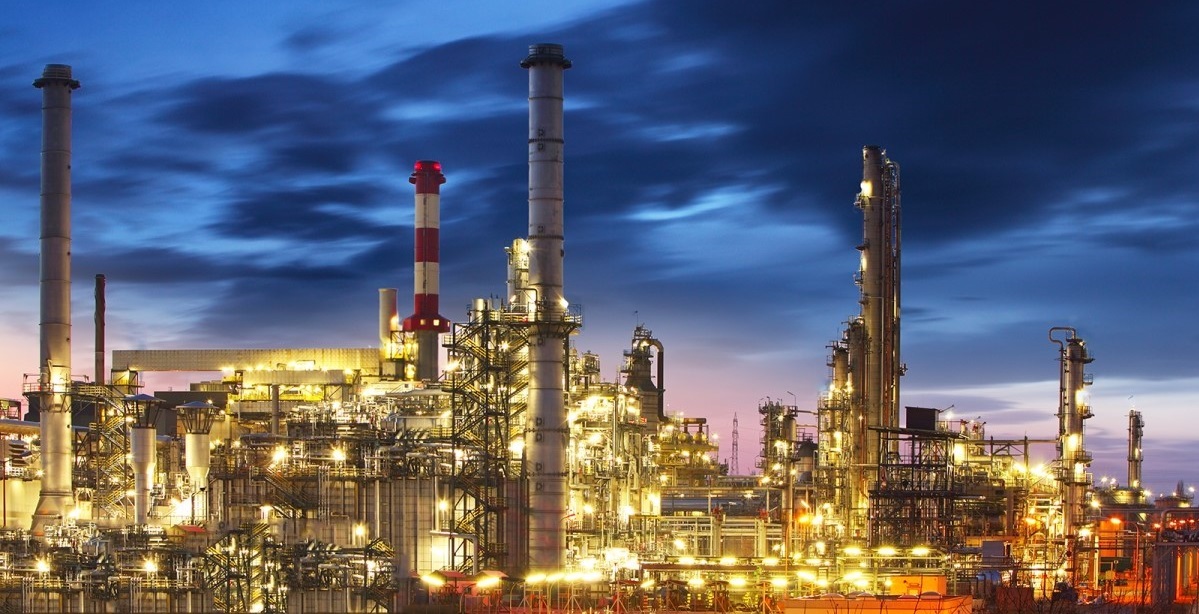 This article was written for the 'Oil Review Middle East'. To read the full article see their current issue here.
The Tribal Knowledge Challenge
In hazardous industries such as oil, chemical, refining and manufacturing, there are selected operators usually known as subject matter experts (SME) that are called upon for their deep-rooted operating knowledge. It is these individuals you count on when an unplanned event occurs. They put in practice their dexterity in order to make the operation safe and to mitigate any unforeseen events from happening during an unplanned shutdown, to actively participate in a critical equipment overhaul and or swap out, to respond to a major event or turnaround or to promptly address an EHS incident to minimise impact. Their knowledge, labelled in the industry as 'Tribal Knowledge', is only apparent when watching these veteran operators execute plant operations. Tribal knowledge, while largely a benefit to process units in a pinch, is a trap for operators and their organisations because it is person-dependent, not documented and reviewed in a system, and has not been vetted through the site's rigorous management of change (MOC) process.
Embracing and recognising these experts that have a wealth of undocumented tribal knowledge for their ability to 'save the process' might become risky for the unit, site and company leadership. Promoting this behaviour instills a focus on results that is not sustainable and lacks operational discipline. Exacerbating the issue, the 'experts' end up training less experienced operators on how to operate the plant 'more efficiently and/or effectively' by not entirely following the operating procedures. As time passes and the experts retire, the less experienced operator relies on his/her passed-down knowledge to safely operate the plant, instead of documented procedures. When an organisation openly or subtly promotes knowledge as paramount, procedures become secondary, and a sense of 'knowing how' sets in and execution details are missed. A knowledgeable operator may not necessarily be a competent operator.
After collecting and analysing data from projects implemented across the industry, it is apparent that operating practice/knowledge is not aligned with operating procedures when walking procedures with SMEs in the plant. This is a process safety issue, and it is well documented that any organisation lacking operating procedure discipline will, inevitably experience unplanned incidents and events.
The 'added' challenges
Recognising experts with 'Tribal Knowledge' is one risk, but the list of added challenges facing the industry in the Middle East continues to grow, including:
Mass retirements:
A record number of staff are retiring, constituting a "Great Crew Change". This causes a loss of organisational knowledge which cannot be quickly or easily restored.
Overstretched subject matter experts (SMEs):
SMEs are already pulled in many directions internally, with procedures often affected by SMEs needing to support onboarding or refresher training for less experienced personnel.
Slow and inefficient onboarding:
Many plants face difficulties to digitalise the onboarding process for newer operators, struggling to adopt new technologies which can decrease the "ramp time" for new joiners. Lack of qualified talent: Finding qualified talent in a region where unemployment is only 11.6% is challenging, albeit entry level or with some level of experience. These might be some of the top of mind challenges, but the results of not being able to address these issues are even more concerning, including increased downtime and an uptake in incidents, with an impact on productivity resulting in decreased quality, margins and revenues.
Bridging the gap with Knowledge Automation
In an industry where so many of the key challenges are linked to human factors, having the ability to understand how technology can help to retain knowledge and deliver the onboarding of new operators more efficiently, is key to bridging the knowledge gap. At Voovio, we've worked with a wide range of industry leaders (including Sabic, Total Energies, BASF, Halliburton and Dupont) on this challenge – using Digital Replicas, Procedure Simulators and Field Execution Tools. Combining these solutions, leaders in operations, maintenance and L&D are able to achieve "Knowledge Automation", building operator competency faster, increasing safety and profitability, and reducing environmental impact.
How does a Knowledge Automation platform work?
Digital Replicas
A Digital Replica is a reallife representation of the process environment. A photographic simulator technology with continuous navigation capability and interactivity, made up of 2D photographs (making updates sustainable and feasible). Users can move and look around freely at any point in the Digital Replica, making it feel as though they are actually walking within the plant. A detailed map shows users where their current location is, allowing users to select new locations immediately and easily. Components are tagged, indexed, searchable and readily accessible.
Procedure Simulators
Simulators enable employees to learn, practice and review procedures with high levels of realism, immersion and interactivity. Each Procedure Simulator includes four modules to cover training and assessment end to end. This includes guided (procedures with step-bystep assistance), learn (similar to guided but with less assistance and ability to walk manually), refresh (similar to guided with faster reviewing capability) and test (where users can test on a section of or the entire procedure, ahead of performance evaluation).
Field Execution Tools
The Field Execution Tool (FET) is an operations assistant designed for mobile device screens and is included for each procedure, in addition to four simulator modules. The Field Module assists users in the field while executing critical procedures. Users are able to check each step of their procedures, view the guided module of each step in a new browser tab, take notes, view progress, and change operators at any time. A report is generated, detailing when each step was completed, by whom and notes.
Measuring results
Of course, leaders need to be able to measure the results of their investments in technologies such as these – which is something we have focused on in four areas here at Voovio: workforce preparedness, plant productivity, asset availability and environmental fines. At the top of the page you can see the final summary of this for a range of petrochemical plants and refineries in the Middle East.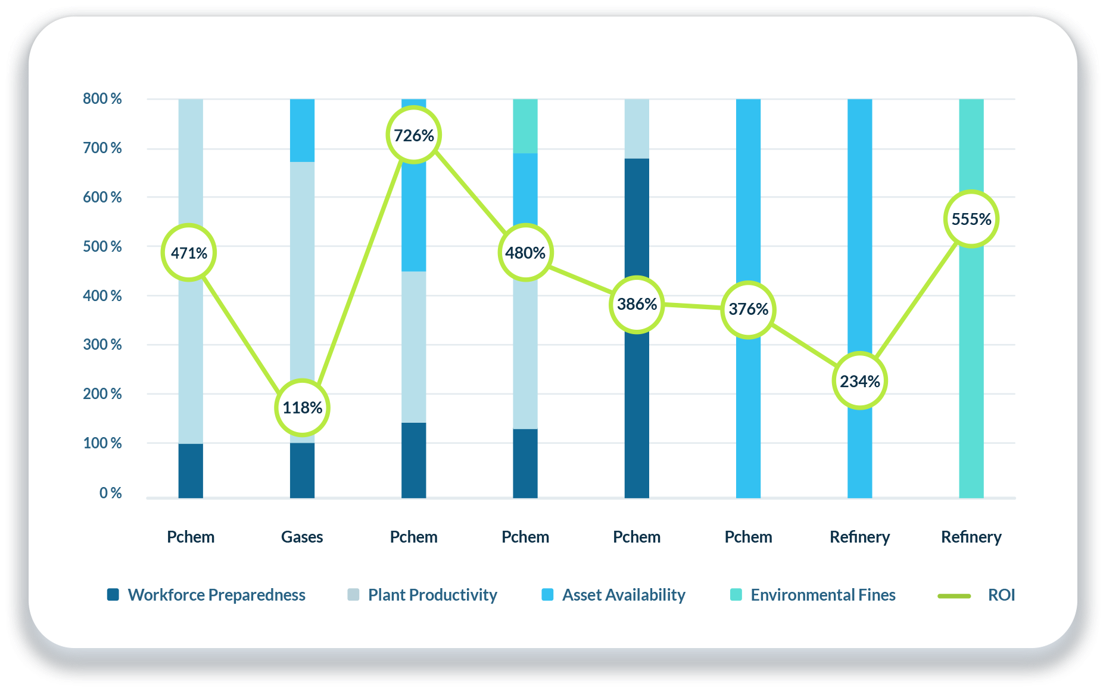 To give a specific example, a refinery adopted Voovio to try and eliminate loss of containment of process materials (resulting in reportable incidents and regulatory fines). They used our platform for a line walk process to create an action checklist clearly defining all release sources, practice procedure simulators prior to procedure execution and our field execution tool. In this particular case, the main ROI contributor has been the elimination of environmental releases (totalling US$1mn in avoided fines).
See the full story in the 'Oil Review Middle East' here!